March for Life 2023 - The First Post - Roe v Wade
25.01.2023
---
This year was the 50th anniversary of the annual March for Life, but this was not the only cause for celebration. Last Friday, the March for life was held for the first time post Roe v Wade, which was overturned in 2022. Roe v Wade was the abortion ruling in 1973 that is responsible for 64 million deaths from abortion. Despite Roe being overturned, abortion remains legal in a number of US states across, and huge crowds of people came out to continue the fight against abortion.
Sister Mary & Casey Gunning (EWTN) Screensho

The March had a variety of speakers, among them were Sister Mary Casey of 'Sisters for Life' and her twin sister Casey Gunning, who has Down Syndrome.
"I love my life," "I went to college, and I worked in a daycare centre for 10 years. I'm a gold medallist in Special Olympics: skiing, swimming, and bowling. You should see me throw those strikes! I have an awesome life, a great family, and a very busy social life. I have Down syndrome, but Down syndrome does not define me. I'm defined by God. God put a price tag on every life, and He says, we are all priceless. Born and unborn, disability or not, we are all priceless."
She also had a message for pregnant women whose baby is diagnosed with Down Syndrome.

"Your child will be a blessing to you, and to the world," she responded. "And you will be the perfect mom. And God bless you, on behalf of all people with Down syndrome, especially those whose lives are threatened in the womb. America, we need you, and you need us!".
Source: https://www.youtube.com/watch?v=jTKiTR78CQQ

Other speakers included Jonathan Roumie who stars as Jesus in the very popular TV show Chosen, who urged pro-lifers to continue the fight. Dr. Gianna Beretta Molla, the daughter of St. Gianna Beretta Molla, an Italian paediatrician that refused to abort her child who became a canonized saint in 2004. OB/GYN, Dr. Christina Francis and Super Bowl winner Tony Dung and more.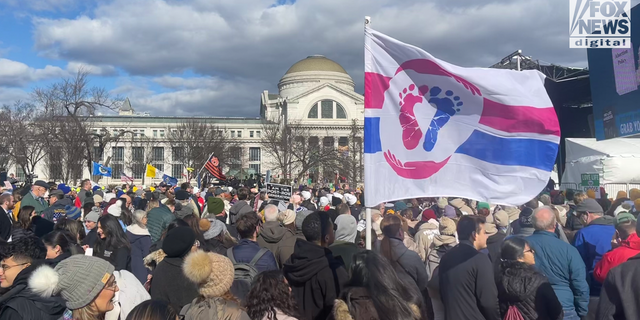 Thousands of people gathered (Fox News)