News in America
19.06.2023
---
[By Brendan Gleason] The recent 40 Days for Life baby-saving campaign of prayer, fasting and witness outside abortion businesses began on February 22, Ash Wednesday, and ended on April 2, Palm Sunday. Some 672 babies were known to be saved, thanks be to God, and three abortion businesses shut down. Four abortion staffers converted to pro-life—and that, say the 40 Days organisers, brings the number who have left their jobs to 251.
The next 40 Days for Life campaign will take place September 27-November 5. The group has said it will start taking leadership applications from June 1.
-------------------
National Celebrate Life Day, June 24
June 24 will be the first anniversary of Dobbs v Jackson Women's Health Organization, the US Supreme Court decision that "aborted" Roe v Wade, the Court's farcically unjudicial decree in 1973 that irrationally and unjustly negated all state law protections for babies in the womb. On June 24 this year, a coalition of national pro-life groups will celebrate Dobbs by holding a National Celebrate Life Day at the Lincoln Memorial in Washington, DC.
That revered national monument was the site, on August 28, 1963, of the historic civil rights rally at which the Reverend Dr Martin Luther King gave his "I Have a Dream" address, in which he reminded Americans that the signers of the Declaration of Independence and the Constitution "were signing a promissory note to which every American was to fall heir. This note was a promise that all men—yes, black men as well as white men—would be guaranteed the unalienable rights of life, liberty and the pursuit of happiness".
Dr King's eloquent words from 60 years ago—and those of the Founders from 247 years ago—find special resonance with pro-lifers today, what with their clarion calls about "unalienable rights", the first right being Life. This June 24 will be a truly special day.
-------------------
Update on Mark Houck
As we reported last issue, Mark Houck, the Pennsylvania pro-life Catholic sidewalk counsellor and father of seven whose home the FBI raided last September, was found innocent January 30 by a 12- member jury that took less than an hour to clear him. He had faced federal felony charges with penalties of 11 years in federal prison, three more years of supervised release and fines of $350,000— all for protecting his son, 12, from an angry pro-abort.
Update: Mr Houck says the FBI told him he would get off with only a slap on the wrist if he pleaded guilty—but he says he could not set that precedent, which Joe Biden's Justice Department would then use against other peaceful pro-life activists like himself. Also, he says with a smile, his brave wife Ryan Marie told him he could not come home if he took the plea.
Now Mr Houck is suing the FBI for abuse of power. When the FBI raided his home, he asked why they were there, and they said, "You know why we're here." He replied, "Oh, I know why you're here. You're here because I rescue babies. You wouldn't be here if the Trump administration was in the White House." He says the agents then just looked at him silently.
Houck Testifies in Congress
On May 16, Mr Houck was invited to speak to the Republican-led House Judiciary Subcommittee. As pro-life journalist Mary Margaret Olohan reports, he recounted his arrest by the FBI, and declared it was intended to intimidate pro-life activists. Committee chairman Jim Jordan (Republican-Ohio), a pro-lifer, agreed with him:
You're a pro-life, pro-family Catholic, for goodness' sake. You [have] seven kids. You're not allowed to have seven kids today, we are trying to save the planet! You can't do that in America today. You were the example. That is how pervasive this political attitude is at the highest levels of our agencies. And in this case, it was the FBI, so much so, that they put together a memo and said we want to put informants and snitches inside the Catholic Church, to go rat out people like Mark Houck and his family.
Reporter Tyler Arnold quoted another statement by Mr Jordan:
Today they come after American citizens. You could be a Catholic attending a Mass, you could be a parent showing up at a school board meeting, or you could be like Mr Houck, a pro-lifer praying at a clinic, and you could be targeted by our government. That is how scary the situation has become.
Congressman Jordan charged that the FBI is heavily politicised. He said the solution is for the House, which largely controls federal spending, to cut that agency's funding. On May 21 he explained to TV journalist Maria Bartiromo:
In the end, money always gets people's attention. And so, what we're going to have to do is say, "Hey, FBI, you can't use federal tax dollars, you can't use the American tax dollars for this kind of activity." We [have] to limit how they spend the money. We have to exercise our authority, the power of the purse, to limit what the federal government, what the FBI and Justice Department, are doing to the American people.
------------------
'Morality Is Immoral'
One of the pro-aborts' most effective propaganda tactics is to smear everyone who is moral and decent. E.g., anyone who wants to save the lives of defenceless, innocent infants in the womb is an "extremist", and anyone who wants to kill the babies is kind, loving and mainstream.
Too many people fail to see through this manipulation. One who did see through it was Rush Limbaugh, the pioneering talk radio host who died in 2021. He made talk radio a booming industry by filling AM radio's lack of conservative and pro-life voices with commentary both insightful and entertaining. He eventually had an audience of 42 million. Years ago, Mr Limbaugh saw through the tactic of labelling pro-lifers as being beyond the Pale.
For example, when the ostensibly pro-life University of Notre Dame made the abortion zealot Barack Obama its commencement speaker in May 2009, and awarded him an honorary doctorate of laws as well, Mr Limbaugh zeroed in to eviscerate Obama's main themes:
The message that President Obama delivered in his speech at Notre Dame was: morality is immoral. Pro-life is the extremist position, not a moral position. Yet we should compromise and work to reduce abortions. Where's the compromise between life and death—and why work to reduce the number of them occurring if there's nothing wrong with them?
As we know all too sadly today, pro-abortion politicians no longer even pretend to want to reduce the number of babies who become abortion victims, as Obama claimed he did. Today's pro-lifers are glad that the radio—and TV—talk show industry that Rush Limbaugh pioneered features astute commentators like himself who can ably advance pro-life views.
Biden Campaigns on Killing Babies
In a cold-hearted, blunt strategy that would have been unthinkable even a few years ago, Biden is making the aborting of babies a centrepiece of his 2024 re-election bid. In his latest campaign video, he intones a warning against Republican "extremists" who, he falsely insists, are intent upon "dictating what health care decisions women can make".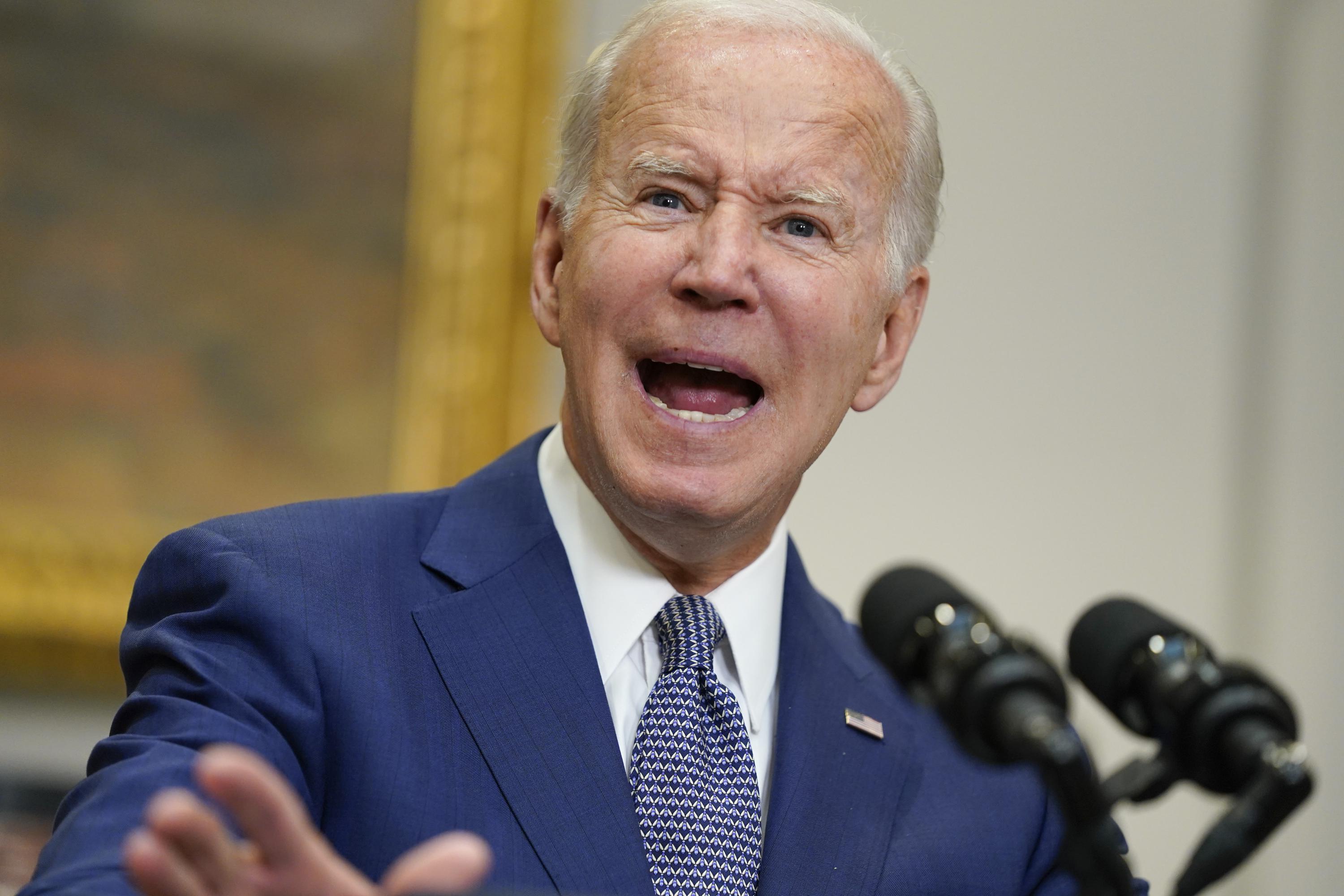 Kamala Harris and Biden vs the Declaration
As we reported last issue, Biden's second in command, the abortion zealot Kamala Harris, last January pretended to quote the Declaration of Independence but left out both that document's affirmation of the right to life and its mention of our Creator. She cannot ever utter the words "right to Life", after all, because that would refute her abortion fanaticism.
Update: Kamala Harris's sinister attempt to revise America's founding document has made pro lifers recall a similar moment. While running for the presidency in March 2020, Biden could not, or would not, say the name of God when he tried to cite the Declaration. He said, "We hold these truths to be self-evident. All men and women created by—you know, you know, the thing." Pro-abortion politicians are not comfortable mentioning the Author of Life.
Kamala Harris vs Dr King
In her pro-abortion speech last January, Kamala Harris said about the Declaration, "Be clear, these rights were not bestowed upon us, they belong to us as Americans"—even though the document, of course, reads, "endowed by their Creator". She was refusing to acknowledge the truth that our rights come from God, not government.
In doing so, she was unwittingly pitting herself against countless American thinkers of the past and present. That includes the Reverend Dr Martin Luther King. In a speech he delivered in 1964, "The American Dream", Dr King quoted the Declaration and noted, "It says that each individual has certain basic rights that are neither derived from nor conferred by the state. They are gifts from the hands of the Almighty God."
In their abortion extremism, Joe Biden and Kamala Harris omit God from American life. Bishops Correct Biden
Joe Biden angrily claimed in late January that "not all" of America's Catholic bishops want to stop taxpayer funding of abortions. On February 1, Archbishop Timothy Broglio, who heads the US bishops' conference, refuted Biden, saying, "Taxpayer funding of abortion would force people of good conscience to participate in this grave evil against their will." He added, "God calls us to defend and nurture life from the moment a new human being is conceived."
Biden's Roe Proclamation
Roe v Wade and its imaginary "right" to kill girl and boy womb-babies in defiance of their right to life have been dead as doornails ever since the Dobbs ruling last June 24. That did not faze Biden, though; on January 20, he issued a proclamation for "what would have been" Roe's 50th anniversary. He praised "reproductive [sic] freedom [sic]", boasted of his many pro-abortion moves and promised to keep fighting to kill babies. Last but not least, he dared to sign and date his screed with proclamations' standard phrasing, "in the year of our Lord…"
-------------------
DeSantis Heartbeat Bill & Presidential Bid
As of our deadline, Governor DeSantis has let it be known that he will seek the 2024 Republican presidential nomination. He is pro-life, as we have seen, and is Catholic and a Republican. If elected, he would become America's first Italian American president
On April 13, Florida Governor Ron DeSantis signed into law a Heartbeat Protection Law, which outlaws aborting unborn babies whose heartbeats are detectable—which, despite pro-aborts' lies, generally is at around six weeks of the babies' lives. The law also provides $25 million in funding to help mums and families. It will take effect only if the state supreme court upholds a bill signed last year that protects babies 15 weeks and older.
Unfortunately, the new law does not provide protection for babies who are conceived in rape or incest, or whose mums face danger to their lives or "substantial and irreversible physical impairment". Nevertheless, the law has infuriated abortionists and their allies because it would save the lives of thousands of babies, partly by ending Florida's status as an abortion haven for mums from other Southern states that already do protect babies from the abortion profiteers.
Tim Scott Presidential Bid
Pro-life Senator Tim Scott (Republican-South Carolina) announced on May 22 that he is running for the presidency. He has no realistic chance against either President Trump or Ron DeSantis, but a good showing on the campaign trail could propel him into consideration for the vice presidential, running mate spot.
Senator Scott, a descendant of slaves, cites America's great progress in racial brotherhood over the past seven decades, and denies leftist claims that America is "racist" and "evil". He calls himself "the candidate the far left fears the most" because, as he says:
I disrupt their narrative. I threaten their control. The truth of my life disproves their lies!I have lived the American dream. I have held the truth, the inalienable truth, that all men and women are created equal. And endowed by our Creator with the right to be free! I will preserve one nation, under God, indivisible—where we honour our Creator and respect every innocent life.
Senator Scott has also blasted abortion giant, Planned Parenthood founder Margaret Sanger for her advocacy of eugenics as an "answer" for women and low-income families.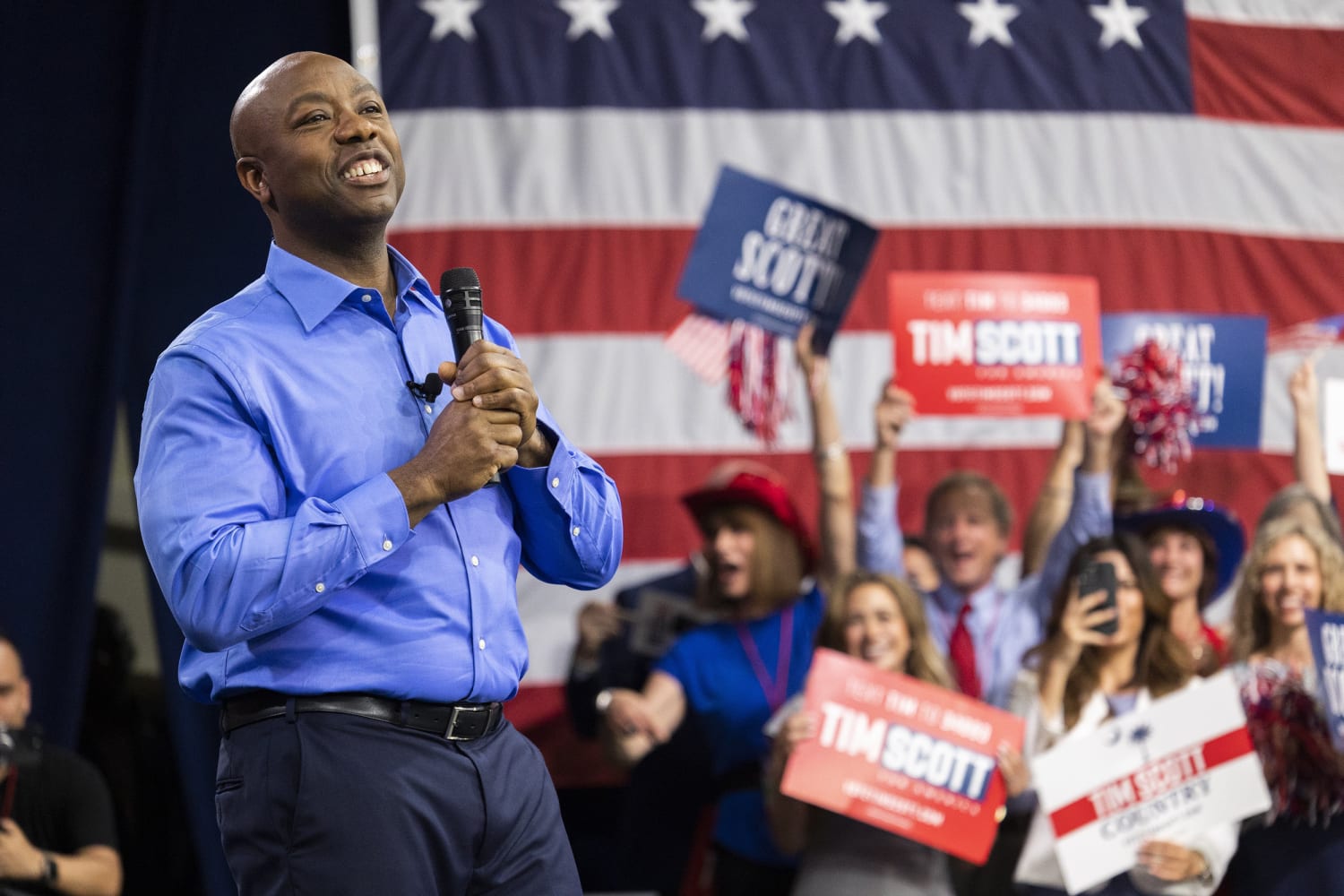 -----------------
Latest on President Trump
As of our deadline last issue, the possible arrest of President Donald Trump in far-left Manhattan was pending. By now you know that he was indeed arrested. The Democrats would have loved to have a police mug shot of Mr Trump, but that was ruled out. Many legal scholars, even liberals, say the prosecution is unwarranted and entirely political. The case is ongoing.
Also in Manhattan, a jury in a civil case found Mr Trump liable for damages in a battery and defamation case stemming from 1996, but they called the case's main charge of rape not proven. Mr Trump denied wrongdoing, said he did not know the plaintiff, and promised to appeal the decision. He called the case "a disgrace" and "a political witch hunt". Without casting any doubt on the plaintiff whatsoever, legal observers said the jury pool in Manhattan is so far to the left that virtually no Republican could prevail in any case of any kind in that city.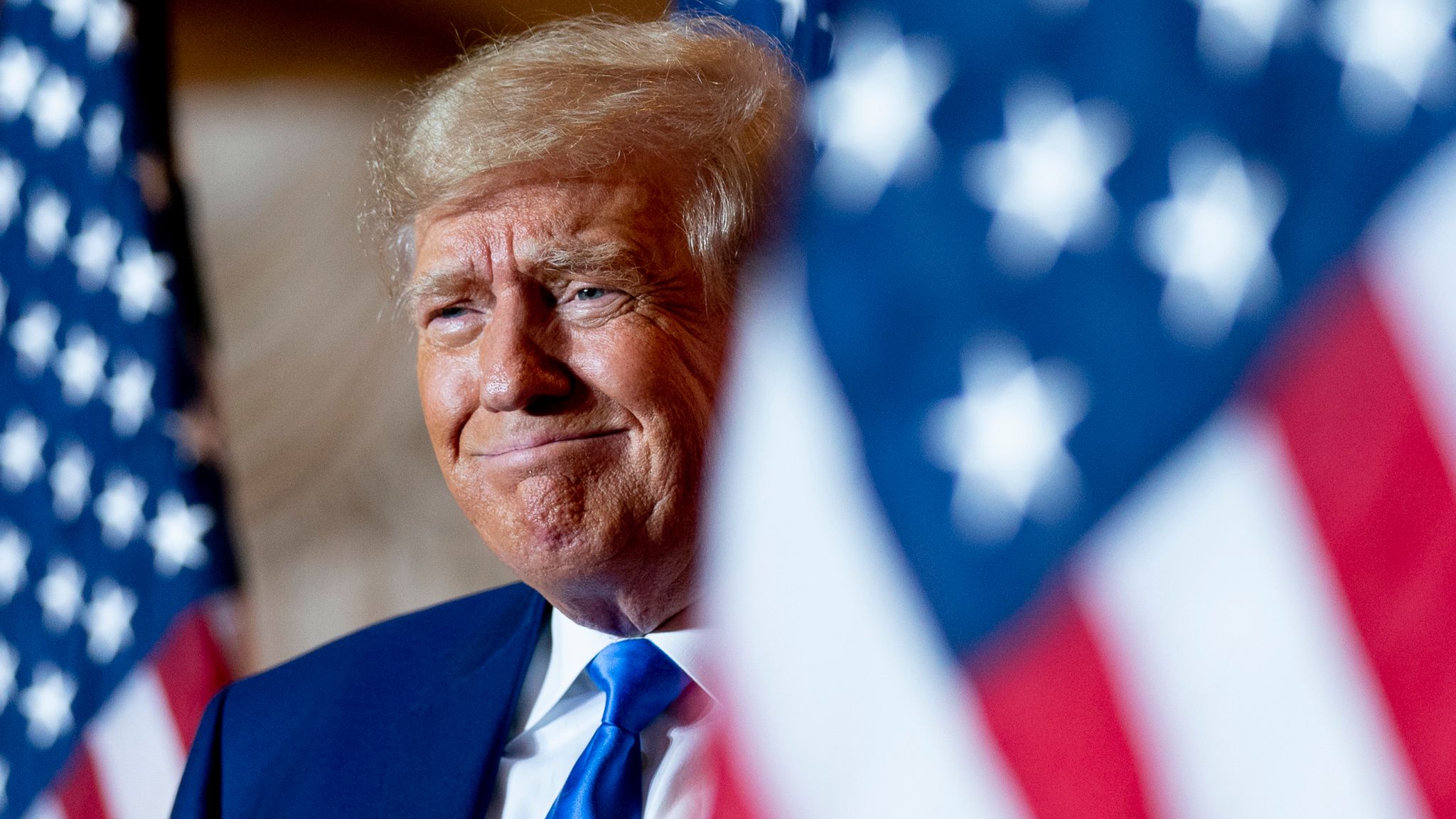 Mr Trump Leads in Polls
In their determination to ensure that Mr Trump can never be president again, no matter what, virtually the entire governmental and political establishments have unleashed criminal charges against him on several fronts. They want to see him convicted of felonies, and thus made ineligible
to hold any office again. One of their lines of attack is over the post-presidential handling of classified material by Mr Trump and his staff; that case is ongoing. Nevertheless, Mr Trump continues to lead Biden in polls for the 2024 race.

-------------------
Trump: Heartbeat Law 'Too Harsh'
As we have noted in previous issues, President Donald Trump too often commits own goals, shooting himself in the foot. In the first half of May, he did so again, twice upsetting pro-lifers by publicly criticising Governor DeSantis for signing the baby-protecting new law. An already declared presidential candidate for 2024, Mr Trump claimed in essence that the Florida law protects too many unborn babies—that voters will not stand for it.
DeSantis fired back at Mr Trump, saying, "Protecting an unborn child when there's a detectable heartbeat is something that almost 99 percent of pro-lifers support." Prominent pro-life leaders such as Marjorie Dannenfelser and Lila Rose have said they cannot back Mr Trump if he does not return to his previous pro-life positions.
Pro-life leader Kristan Hawkins argues that being solidly pro-life is a winning issue:
I know media elites love to focus on 2022 losses by Republican candidates who [ran] from the abortion issue. But the fact is, every Republican governor who signed either a Heartbeat Protection Act or a Life at Conception Act into law was re-elected in 2022—including Brian Kemp (R-Ga.), Kevin Stitt (R-Ok.), Kim Reynolds (R-Ia.), and Greg Abbott (R-Tx.). When pro-life grassroots Americans are engaged and energised, pro-life candidates win.
Mr Trump: 'I Got Rid of Roe v Wade'
Both before and after he criticised DeSantis, President Trump cited his pro-life bona fides: "I'm the one that got rid of Roe v Wade." His three appointees to the US Supreme Court, Neil Gorsuch, Brett Kavanaugh and Amy Barrett, did in fact provide the key votes for the Dobbs decision last June 24 that overturned Roe, and declared there never was any "right" to kill unborn babies in violation of their right to life. He also named nearly 300 constitutionalist federal judges.
Mr Trump said that Dobbs's obliteration of Roe has given pro-lifers new legal and political leverage: "Without me there would be no six weeks, 10 weeks, 15 weeks, or whatever is finally agreed to. Without me the pro-Life movement would have just kept losing. Thank you, President TRUMP"!!! The Most Pro-Life President
Pro-life leader Mary Szoch points out that Mr Trump's achievements in the White House did make him the most pro-life president:

President Trump gave us the justices who gave us Dobbs. He was the first presidential candidate to actually describe what an abortion is—a child being ripped out of her mother's womb even just before birth—and he was the first president to attend the March for Life. His administration did more for the unborn than any other.
Mrs Szoch has a list of pro-life qualifiers for Republican candidates:
In a second term, [Mr Trump]—or anyone else who calls himself a Republican—must be!committing to signing any democratically passed pro-life legislation, and committing to upholding and reinstating federal protections for the unborn. The pro-life movement must continue to work until nobody has the power to take away the fundamental right to life with a vote, scalpel, or pill".
------------------
Abortion Giant's Banner Year
On April 24, Planned Parenthood released its latest annual report, for its fiscal year 2021-2022. They admit surgically aborting 374,155 baby girls and boys. They received $670.4 million in taxpayer funds for an overall profit of $204.7 million and total assets of $2.7 billion.
---------------
Abortion Drug Case
In early April, US District Judge Matthew Kacsmaryk halted the sale of the abortion drug Mifepristone, ruling that the Food and Drug Administration (FDA) wrongly approved it in years past. The US Supreme Court, with Justices Samuel Alito and Clarence Thomas dissenting, then allowed continued sales of the deadly drug while the US 5th Circuit Court of Appeals considers the case. The Alliance for Hippocratic Medicine, a pro-life doctors' group, initiated the case.
The combination of the abortion drugs Mifepristone and Misoprostol now accounts for the deaths of half or more of the unborn babies aborted in the USA. Pro-lifers marshal statistics that show the drug cocktail can be extremely dangerous to mums who take it.
Pro-abortion politicians are threatening to simply defy any decisions by the federal courts, including the US Supreme Court, that would stop sales and distribution of Mifepristone. Some pro-abortion state governments have stockpiled the drug in case it becomes unavailable.
More pro-life news from America for you next time. God bless – Brendan